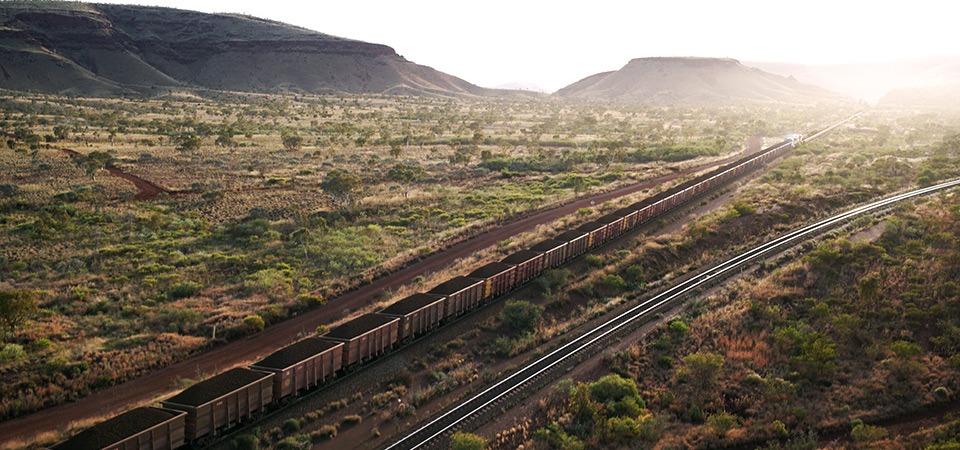 If autonomous rail freight were to become a reality, the benefits could be abundant. More trains could operate, travel times would be faster, and companies could spend less money on building new, expensive tracks. [1]
What many don't realize is that the autonomous train revolution has already started. In 2019, mining company Rio Tinto "…announced the successful deployment of its AutoHaul technology for the autonomous operation of iron ore trains in the Pilbara region of Western Australia, creating what the mining company said was 'the world's largest robot and first automated heavy-haul, long-distance rail network'." [2] 
Operating in a remote desert region in Western Australia, the Rio Tinto supplies half of the world's seaborne iron ore trade.[3] The train operates with an onboard module that sends automatic reports on its position, speed and direction of travel to its control centre that's more than 1,500 km away in Perth. [2]  
It was expected that autonomous rail freight would take considerable time to come to fruition, but Rio Tinto's vision shows tech-savvy rail freight is already operating full steam ahead. This change is exciting, but many experts are concerned about the safety implications of driverless rail freight. 
Is Driverless Rail Freight Safe? 
The history of rail freight trains shows that those operating with two-people crews have become increasingly safe over time. 
Statistics show that as of 2016, US rail freight hit a record low accident rate. Impressive accident reductions have been achieved not only by adding safety technologies to the trains, but in combination with the two-person crews on board operating them. The high efficacy of today's safety standards begs the question of whether or replacing standard freight train operation is worth the risk of compromised safety.[4] 
However, it may not be possible to fully understand how dangerous autonomous rail freight is until an accident happens. "One of the strongest "cons" would be an unfortunate accident of an autonomous freight train. That would be all that is necessary to discover perhaps that the technology itself is as infallible as humans. So-called "experts" say autonomous train operation is safe and eliminates the possibility of human error, but the software programs that make autonomous operation possible were created by humans, and unexpected situations can and will occur."[4]
It's important to note that industry experts must not forget that no single system is perfect. A conventional BHB Billiton freight train carrying iron ore was purposely derailed in 2018. "Local media reports said the train literally ran away after the driver briefly stepped off the train to inspect an issue with a wagon. Before he was able to get back on board, the train moved away with 268 wagons in tow and travelled 92 km before it was deliberately derailed by BHP."[5]
The current logistics field already uses robot technology to help prevent accidents. In its Near Future of Mining report, BDO, a consultancy group, predicts that, by 2020, 75 percent of mining accidents will be eliminated as a result of using robots.[6]
Economic Benefits and Burdens
The Rio Tinto train is just one example of how driverless freight can benefit economically. Its technology has helped the company bounce back from economic burdens that are difficult to recover from otherwise.
"The rollout of autonomous systems has accelerated in the wake of the 2012-2015 commodities crash, which forced global miners to slash costs, streamline their workforces and increase productivity."[3]
"The biggest iron ore miners in the Pilbara — BHP, Rio and Fortescue — say introducing autonomous trucks is generating productivity gains of between 15 and 30 per cent."[3]
Autonomous freight trains have proven to be more high-functioning as compared to traditional trains. As an example, "Automated vehicles controlled by GPS technology are more precise, use less fuel and incur less wear and tear than human driven vehicles."[3]
"And the trend looks set to continue, according to consultants McKinsey, which predicts robotics and big data will produce $290 to $390bn in annual productivity savings for oil, natural gas, thermal coal and copper producers by 2015."[3]
It is natural for humans to fear change and the uncertainty it brings. This has been our reaction throughout history when new technology emerges. Autonomous rail freight presents this same predicament. Although traditional freight is proven to be very safe, BDO's report [6] also posits that railway accidents will be exponentially slashed in the future. The benefits associated with autonomous railway freight are countless, but it isn't until logistics experts are willing to put it in action that we can substantiate the costs, too.  
Cited works
[3] Smyth, Jamie. "How Robot Trains Are Boosting Australia's Mining Industry." Financial Times. Financial Times, November 23, 2018.
https://www.ft.com/content/b71db1fa-ed3d-11e8-89c8-d36339d835c0
.