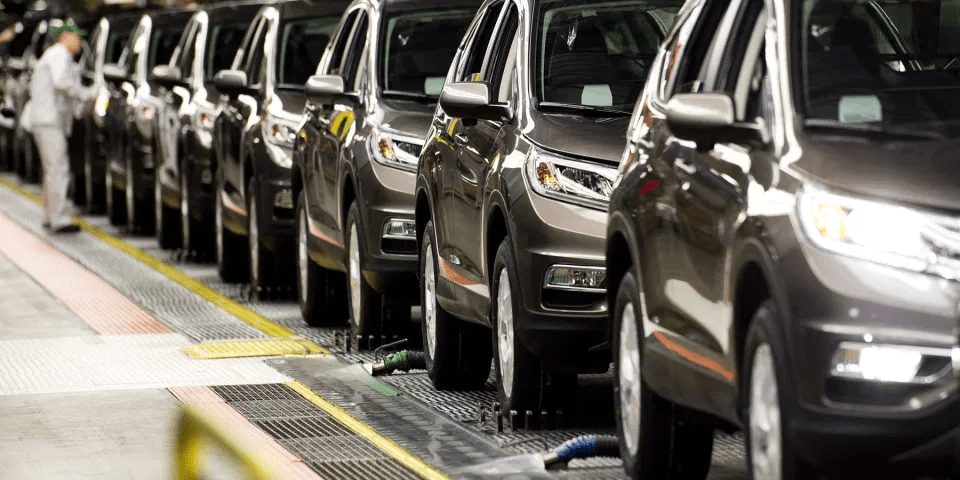 Since the World Health Organization declared the 2019 novel coronavirus (COVID-19) a pandemic on March 13, the world has largely come to a standstill. As we've seen, this means the world's varying economies have at best slowed and at worst been devastated, and the global automotive industry seems to bear the brunt of this economic upset.
This is for a few reasons, two of which concern us most for the purposes of this exploration. First, as factories in China—the first country to see widespread lockdowns—began to shutter, manufacturing plants for global giants such as General Motors and Toyota screeched to a halt. Second, as the global economy has rapidly contracted and jobs have been lost, there are fewer and fewer consumer dollars entering the market. 
This means from both the production side and the consumer side, the invisible hand of supply and demand is off kilter. China began reopening its factories in March and, as such, the production pipeline is slowly lurching back to work. But what of the consumer dollars? Supply is beginning to ramp up once more, but demand is still faltering. Perhaps nowhere is this so clear as the North American automotive industry.
"In countries like the United States, trends in auto sales tend to tell a great deal about where the economy is headed," writes Jack Perkowski for Forbes.1 This is because such large purchases—often tens of thousands of dollars and an accompanying multi-year payment plan—are contingent upon consumer confidence in economic growth or stasis. This means, essentially, that if people are worried about losing their jobs, they won't buy new cars. As such, automotive sales can be an excellent litmus test with which to indicate the health of the national economy.
That outlook isn't good: in Canada, automotive sales fell by a staggering 74.6% in April this year.2 In the United States, where manufacturers and dealerships often report numbers quarterly, not monthly, experts estimate the industry saw a 50% drop year-over-year.3 Across the pond, it's worse. In the UK, sales fell by a seemingly impossible 97%—only 4,300 cars sold to private owners all month, countrywide.4
Further, to make matters more trepidatious, this consumer slowdown extends to automotive services and automotive accessories, like oil and new parts.
"We work with customers in the automotive industry as well and that sector is probably seeing about a third of the sales activity it would normally see. Automotive consumables are way down," says Canadian Alliance President William McKinnon. "Beyond forgoing the purchase of a new vehicle, people are looking to stretch the time between everyday expenses like oil changes and buying fuel."5 
What do these factors mean for the global automotive supply chain? Due to contractual production agreements, manufacturers—many now ramping up production in China—continue to ship goods despite this lack of demand. As an increasing amount of product is barged from China to North America and distribution centres stateside fill up, automotive manufacturers face a complicated situation: a glut.6
These changes and disruptions to the normal supply chain have rippling effects. Already complicated circumstances will only compound in the coming months, as the automotive industry very slowly moves toward reopening dealerships and production plants in North America. In Scotiabank's most recent Auto News Flash, analysts wrote that "while provinces will gradually start re-opening on varying timelines in May, we expect auto sales to remain weak throughout the second quarter in line with our latest economic forecasts."7
This slowdown in automotive purchasing, with no end in sight, necessitates adaptation from supply chain professionals and third party logistics companies. "They know this product will sell eventually, but the consumer markets these companies are active within are still experiencing a slowdown," says McKinnon. "So companies are inquiring with us to see if we're able to store inventory for three months, or four months, for a variable but short term."5
 This short, variable term storage allows automotive companies to store and relocate product, ensuring that no supplies are wasted and that an inventory buffer is established. Agility in the supply chain to accommodate the influx of products and stagnancy of inventory levels will be crucial in the coming months to keep the automotive industry stable.
Even if a surplus of delivered product is priced to sell to alleviate the glut, the automotive industry will continue to see a downturn.7 This could lead to the consolidation of market shares in the coming months, enabling lean conglomerates to absorb the shockwaves and starve out struggling manufacturers and dealerships. Just like COVID-19 itself: the secret to success is flattening the curve, in this case, lessening sharp up- and down-ticks in supply levels by finding stasis in short term variable storage, allowing for maximum agility and flexibility on the part of automotive companies. 
Citations