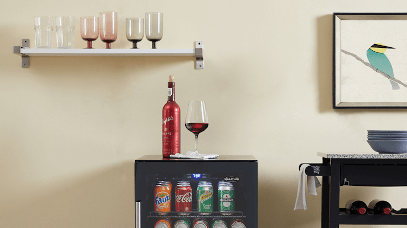 Consumer demand for small appliances, electronics and other household goods have been altered as a result of changing lifestyles. Remote work, shifting priorities and a trend toward home improvements have left manufacturers, distributors and realtors struggling to forecast inventory and production needs, even as they deal with supply chain complexities caused by the pandemic. 
Lifestyle Purchases Dominating Retail Trends
One of the many things historians will recall about 2020 will be the famous spring toilet paper run that shook our collective faith in the supply chain. Now that we have had time to adjust to life during Covid times panic buying has been largely replaced by lifestyle-inspired purchases. 
The shift to remote work has brought about demand for electronics and other office staples, while the trend towards eating in has led to the purchase of bread makers, sandwich makers, electric skillets, pasta makers, pressure cookers, juicers and other items for the kitchen.1
Sure, staples such as food products and cleaning supplies remain in demand, but so do items related to home improvements, as consumers channel unused travel budgets into projects designed to spruce up the homes they find themselves spending even more time in. 
High tech household items such as appliances equipped to interact with the 'internet of things' will be increasingly present in the lives of consumers in coming years. On the other end of the spectrum, products such as board games and jigsaw puzzles are experiencing renewed interest as families look for ways to pass time at home.2
During the early days of the pandemic, Multibriefs described the shift in habits.
"Do-it-yourself projects have gained ground during the lockdown. Consumers are stuck at home, but they are trying to stay motivated. Most are using this time constructively to learn new skills. They are baking, cooking, decorating, sewing and spending time on arts and craft projects. Some are taking on home improvement projects in a bid to become more self-reliant."1
While summertime activities and loosened regulations may have taken some people's attention away from such interests, falling temperatures and rising case numbers are likely to hasten a return to indoor hobbies and pastimes.
Supply Chain Complications During Covid 19
Factory shutdowns and shipping complications have created difficulties for distributors, retailers and manufacturers, and have led to increased emphasis on supply chain management, already a growing concern in recent years. 
"The COVID-19 shutdown disrupted both manufacturing and transportation capabilities, leaving many manufacturers without a valid source for key inputs upstream, while also complicating downstream deliveries," writes Julia Sustakova of Goldbeck Recruiting. "While the vulnerabilities of the Just in Time model have been discussed in the past, the current conundrum has brought the topic to the forefront. Shoring up the supply chain has become the new focus, with increased emphasis on shorter chains that feature suppliers who are both secure and flexible. Double sourcing has been another practice to gain favour, as horror stories of companies being burned by putting all their eggs in one basket abound.'3
As companies rethink their procurement practices, they also must deal with rapidly changing delivery methods with ecommerce rising as retail retracts. It all serves to accelerate the trend of increased focus on supply chain management. (Mentions of the term 'supply chain' in the annual reports of S&P companies has grown 30% in the past five years, according to Supply Chain Brain).4
"This crisis has required practical, agile thinking, giving many the courage to test, fail fast and try again," writes John Kelleher for Computer Weekly. "Decision-making and digital transformations that would have taken months or years are being done in a matter of weeks."4
Key to managing supply chain challenges will be strong partnerships, including reliable and capable third party logistics providers. 
"A good third party logistics (3PL) partner will handle your order fulfilment process from top to bottom, taking care of receiving, inventory, storage, order processing, shipping, and returns processing," writes Jessica Miles of Goldbeck Recruiting. "With these tasks off your plate, you'll be free to focus on the production and marketing of your products."5
Long Term Impact of Covid 19 on Consumer Behaviour
What's less clear are the long term consumer behaviour implications of these societal trends. An eventual return to 'normalcy' will certainly find many people eager to resume frequenting restaurants and re-engaging in travel, while also returning to their offices and places of work. There is wide speculation, however, that the proverbial cat may be out of the bag with regards to remote working, and consumer appetite for new technology shows no signs of abating. Those who gained new hobbies and interests during the lockdown will not necessarily abandon those pursuits if and when a vaccine or some other development steers us away from our current situation, meaning that a careful and perpetual eye must be paid to consumer habits. 
Cited Sources
1 Majumdar, Bambi. "The Home Appliances Market has Shifted Thanks to COVID-10" Multibriefs. May 13, 2020.