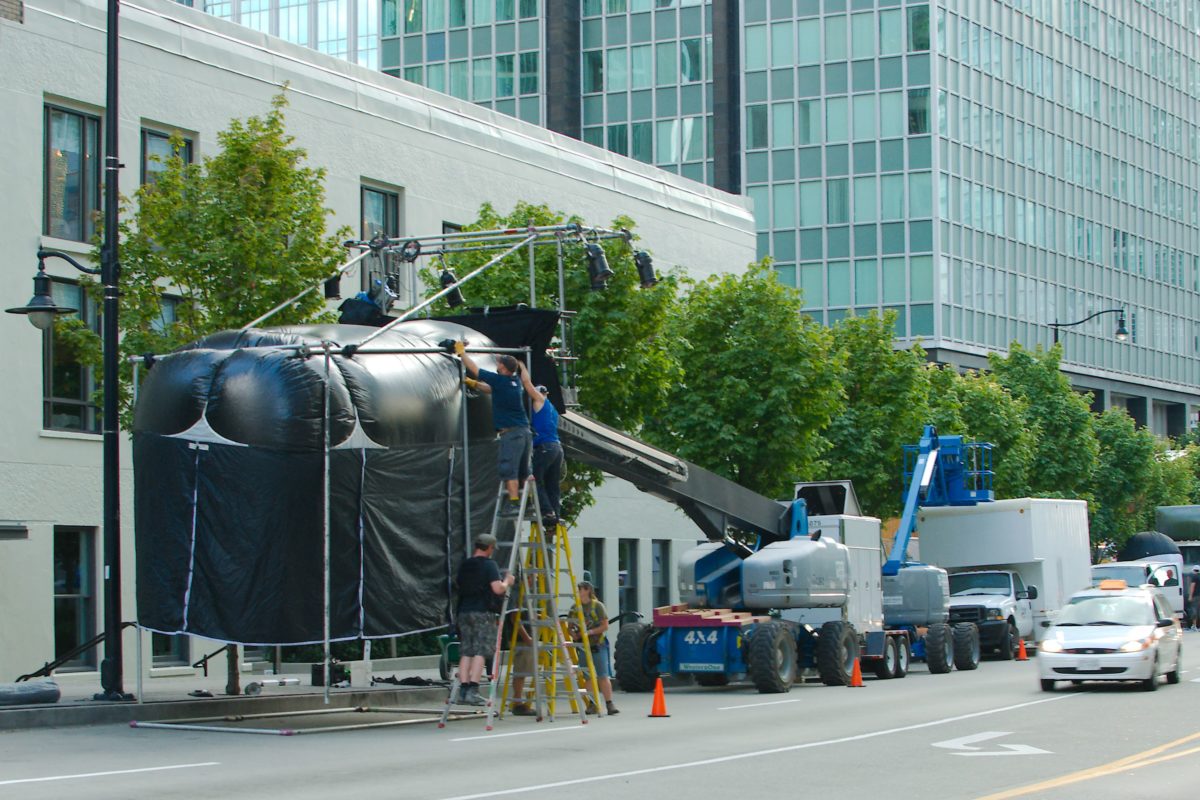 If you're going to film a TV show or a movie in Vancouver's Hollywood North, you'll need the right team to develop and execute a dependable logistics strategy. Many films require that trucks, people and equipment be deployed to a single block, so this team needs an agile supply chain that caters to filming to help ensure that scripts get from the streets to the screens. Fortunately, an experienced crew will arrange shooting locations and fill transportation needs, employing expert logisticians who ensure that cast, crew and equipment arrive on time. 
In this "who's who" overview, it's important to note that titles are fluid for many film crew roles. Although the responsibilities are generally consistent, the names of roles can vary based on individual budgets along with the size and type of each production.
Locations Manager
A logistics strategy can only be planned and executed once a filming location is confirmed. The strategy is built around the shooting location's specific accessibility and the project's demands for transportation, crew movement and more. To help prevent common pitfalls, a logistics strategy must be designed to handle worst case scenarios. A locations manager must work with city officials to secure permits, advise neighbours about pending operations and manage the entire location department. It is only after this that the logistics plan can be organized and executed. 
Logistics Coordinator
A logistics coordinator's job is very hands-on. This person "Works in transportation or warehousing of goods [and] processes orders and oversees [the] cycle of order fulfilment. [They are] responsible for making sure supplies, stock, materials, packages, and/or products are processed through the delivery and/or warehouse system efficiently and safely."1
They are responsible for reviewing the costs of transportation and negotiating pricing for raw materials. They must monitor warehouse capacity, receive products and coordinate delivery times. They also ensure the transportation cycle is well-planned so that deadlines are met.1
TV/Film Production Manager
A TV or film production manager juggles numerous tasks, playing an important role in a film's logistics strategy. 
Some of this person's responsibilities include "coding and digitizing purchase orders, managing petty cash and production visa reconciliations, organizing gear inventory and orders, [booking] detailed travel itineraries [for] talent and crew, overseeing production coordinators' and assistants' workloads, location scouting, acquiring filming permits for future shoots, making sure crews are fed every six hours, updating line producers and networks on daily logistics, and booking production rental vehicles for daily crew transportation to sets [and] locations."2
It is especially crucial that they ensure all equipment, technology and gear show up on time to keep all the other tasks on schedule and on budget. 
The Production Coordinator
The production coordinator's role is very specific to immediate logistics functions. One of their biggest responsibilities is keeping a close eye on the delivery of equipment and gear so it meets deadlines and can be set up on time. They also [take the] lead with cast and crew logistics.3
Props Master and Stylist
For a props master and stylist, the smallest details are everything. "Your Props Master is in charge of sourcing, delivering, and keeping track of all the props that appear on screen. They will often work alongside Props Stylist to make sure that everything looks amazing on camera. On a smaller crew, the stylist and master role can be filled by one person."3
Given the importance of props, they require well-planned logistics as a small missing prop could delay the production schedule of a TV/film. It's important that they communicate with the logistics coordinator to ensure that deliveries are properly timed. 
Director of Photography
The director of photography is essential to film production, since lighting plays a significant role in bringing the right mood to the screen. They are responsible for the quality of light and, overall, all lighting decisions. They must plan even the smallest of lighting details, right down to the specific bulbs used for each shot.4
The director of photography's lighting decisions influence how lighting will be transported. Since lighting is so important, it requires a specialized team of logisticians to safely transport the right equipment to each shooting location. Not only is great lighting essential, it also tends to be quite expensive, so quality packaging and agility are crucial for preventing breakage. Customized packaging is an essential consideration, especially considering the enormous rotation of bulbs required.5
Each of these roles make significant contributions to the logistics process that, in turn,  makes a TV or film shoot possible. With so many production members playing a part in the overall logistics strategy, regular meetings are vital and constant communication should be distributed amongst all those involved in logistics planning.
Cited Works